Jupi T. Das
Artwork in Finer Artist Collection:
About Jupi T. Das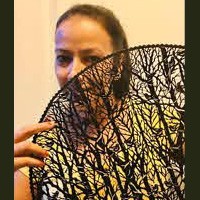 Jupi T. Das was born in India and began her paper cutting journey during her short stay in Beijing, China. Being a self taught artist, Das has been working on paper cutting since 1994 when she moved to the United States. Each design is hand cut from one single piece of paper with no commercial reproduction used. Her unique and intricate creations are inspired by folk design from different countries. She has received many awards and recognitions throughout the years. Das is a full time artist and works from her own studio near the Philadelphia area.
Website:
www.facebook.com/Jupisart

We Need Your Help!
Do you know this Artist? We are looking for the most up-to-date infomation, please send us any information you have. Contact Us Now