Micah Mullen
Artwork in Finer Artist Collection: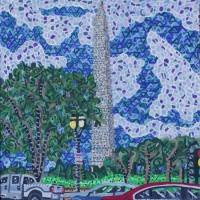 Acrylic Painting
Learn More »
About Micah Mullen
Acrylic artist Micah Mullen's style of painting involves creating complicated backgrounds of varying colors, then adding detail to the painting. His paintings are centered on conceptualization evolving over time.
Mullen studied at State University of New York at Brockport and Duquesne University. He is the Marketing Director at Jerry's Artarama in Raleigh, North Carolina.
Website:
www.micahmullen.com

We Need Your Help!
Do you know this Artist? We are looking for the most up-to-date infomation, please send us any information you have. Contact Us Now